Connexis holds the gazetted coverage for Industry Training for the Infrastructure Industries: Civil Construction, Energy, Telecommunications and 3Waters. To support these industries we develop and maintain the skill standards that make up the programmes toward NZQA nationally recognised qualifications. We also develop and coordinate the delivery of Industry Training toward achieving these qualifications.
At Connexis we want to help you promote the industry, celebrate the success stories, and ultimately increase the number of people within the infrastructure industry.
The standard of the Infrastructure Industry in New Zealand is set high and works will be increasing at a very fast pace! Here at Connexis we are ready for the challenge to be your first choice of support!
---
How we can help you
Amongst other things, at Connexis we can help you in several different ways:
Provide connections
Working with schools
Training for employees
Develop your skills
Encourage development of new talent
Potential partnerships
Promote your business to jobseekers
If you would like to be involved in any of the following activities talk to your local CSAM or contact askus@connexis.org.nz
Why work with schools?
Schools are the gateway to your community:
They provide a network of people that can help raise the profile of your business
They have a pool of talent that can feed new team members into your business
There are several options for you if you are wanting to work with schools and help encourage students into the industry.
Gateway
What is it?
Gateway provides senior students with a solid foundation if they wish to pursue a career in trades. Students get on the job experience while earning NCEA credits.
How it works
You provide year 12 to 13 students the opportunity to shadow someone in the company and check out how awesome your industry is.
The student will also need to complete some Unit Standards, combining on job experience with theory.
The work experience is unpaid.
Whats in it for you?
Your staff get the opportunity to develop their skills in mentoring and training and you get the chance to give back to the industry through passing on your knowledge.
You also get the opportunity to evaluate a potential new employee with no obligations for further employment.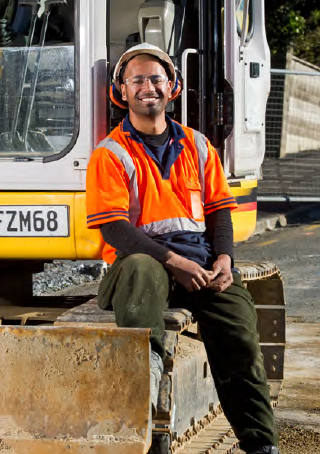 Site visits
Open up your doors and invite students, school teachers and Career Advisors into your company! This is a great way to encourage young people to enter the industry through showing them what it is all about.
It also exposes your company and our industry to school teachers and careers advisors who can become advocates to promote to students for many years to come.
Connexis, alongside Got a Trade? Got it Made! runs a series of site visit events and it would be great if you got involved. Contact us today to find out how you can help – askus@connexis.org.nz
Apprenticeships
Apprenticeships are a great way of supporting and growing new talent in your business. Not only this, but you will be supporting the initiative announced by the Government in 2016 who want to increase the number of people in apprenticeships to 50,000 by 2020.
Apprenticeships are perfect for people who are new to the industry – whether or not it is a school leaver or someone re-joining the workforce after sometime away. During the 2-3 year program, your apprentice will learn the theoretical and practical skills they need on to complete the job properly, at the same time as they gain a nationally recognised qualification.
Apprenticeships are eligible for the new FEES FREE Scheme so the cost of the qualification, assessment and any provider costs will be covered, for any eligible trainees, by the government for two years.  It has never been a better time to take on an apprentice.  For more information visit the FEES FREE page.
If you have space for an apprentice why not advertise it for free on our Jobsite.
Encourage more women to join the industry!
Currently women make up 50% of the population, yet only 4% of our trainees. Something needs to be done about this in our infrastructure industries!
Ultimit – Women in Infrastructure is all about increasing the number of women in trade and technical roles in the Infrastructure industries.
Our initiatives aim to raise the profile of career options around women in industry but we need your help and support to enable this shift in attitude.
If you would like to find out more information on Ultimit check out the page below.
Find out more: Ultimit – Women in Infrastructure

Additionally, you could open up your doors and get involved in Girls with Hi-Vis® , an annual event. Here, infrastructure companies invite young females into their workplaces to gain understanding and experience of what our industry is all about.
Find out more: Girls with Hi-Vis®
If you would like to be involved in these cool initiatives please get in touch today! askus@connexis.org.nz or 0800 4860626
Have positions that need filling?
Connexis runs a couple of initiatives aimed at helping increase the number of people within the infrastructure workforce, and to make it easier for you to find quality employees.
Jobsite
Do you have jobs you need to advertise, or positions you need fill?
The Connexis Infrastructure Workforce Jobsite allows infrastructure companies to directly advertise to jobseekers for free.
The jobsite has been developed specifically with our infrastructure companies in mind. From entry level to management, the jobsite makes it easier for infrastructure companies to fill your vacancies through a targeted platform.
Visit jobsite
Transition to work
Through a collaboration between Connexis and our Infrastructure Companies, the Transition to Work Programme aims to meet the industry skills shortage by teaching new employees the skills required to be a safe and productive team member, first day on the job.
View more information
JOIN OUR INFRASTRUCTURE COMMUNITY
Our industries compete against every other industry in attracting bright talent. At Connexis we work with our industries to help promote Careers in Infrastructure as an attractive place to work. Part of this is showcasing what's great about what our companies do and the people that work in them. This helps people see what it is like working with: the big machinery, large scale projects, new technologies and great teams.
Share your story
Help us showcase our Infrastructure Community by sharing the stories and pictures of your, projects and people with us.
We will share this on our social networks: Facebook, LinkedIn, Connexis website and, if it's really unique, we will chat to you about allowing us to put out a press release to local and/or national news media. All information will be checked with you before we share!
Drop us a line or email your story and pictures today to marketing@connexis.org.nz