---
New Zealand's infrastructure industry has a skills gap when it comes to upgrading roading networks, replacing leaky water pipes, maintaining power lines or installing faster broadband technology, to name a few. These jobs are in high-demand, can be a lot of fun, and provide varied career paths…for women just as much as men.
Girls with Hi-Vis® gives female students the opportunity to gain hands-on experience, hear from inspirational women in the industry and learn what a career in the infrastructure's civil, energy, telco and water industries can offer.
---
For Host Companies
Registrations are now closed for 2023.
We have received a phenomenal amount of interest for co-hosting in 2023. If you are interested in co-hosting in 2024, please send an email to gwhv@connexis.org.nz.
KEY DATES 2023
| Date | Key Activity |
| --- | --- |
| Monday 13th March 2023 | Connexis will confirm if you have been selected to co-host a Girls with Hi-Vis® event in 2023 |
| Friday 24th March 2023 | All events open for schools registrations |
| Monday 24th April 2023 | Co-host companies to provide agenda outline |
| 6 April to 24 April 2023 | School Holidays |
| 12 May 2023 | School registrations close |
| June 2023 | Girls with Hi-Vis® |
---
---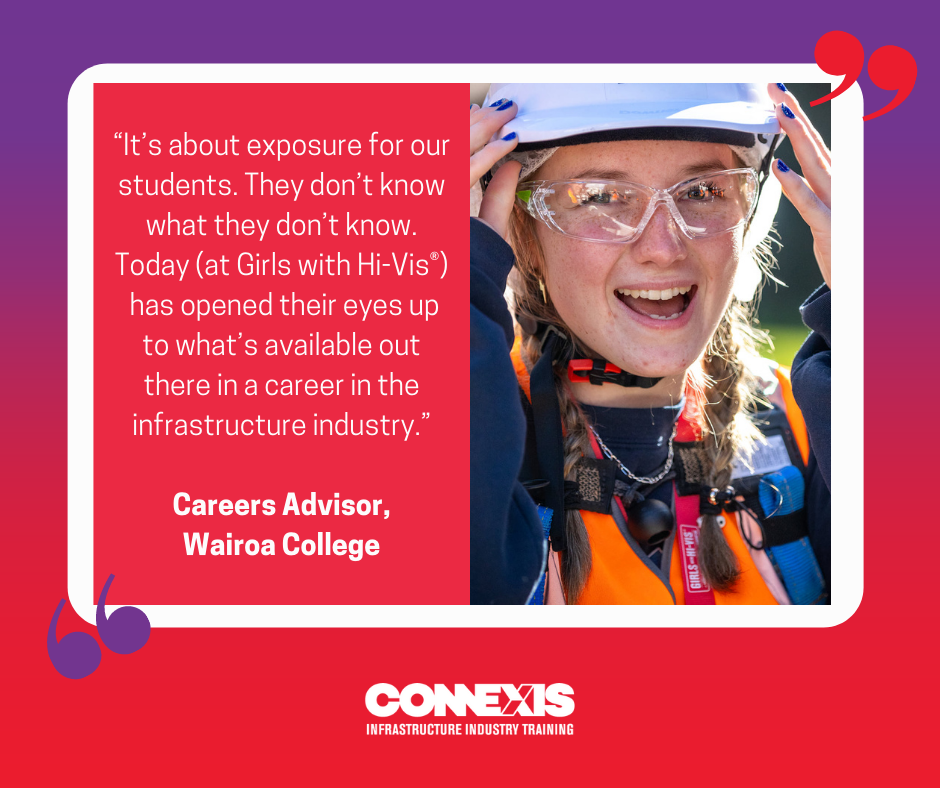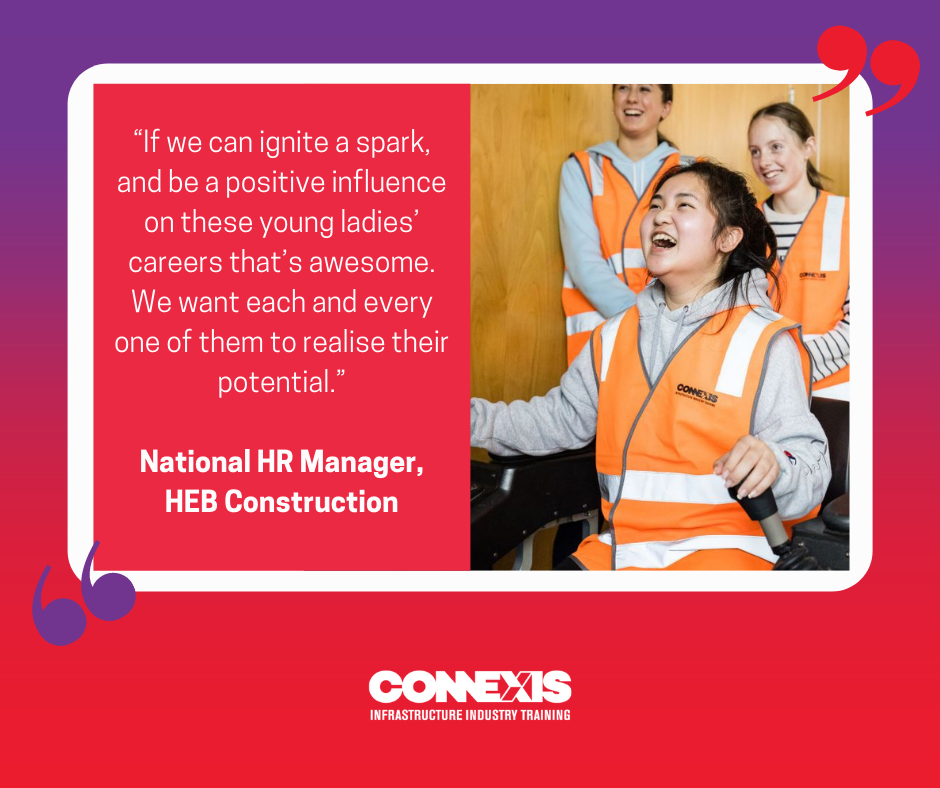 Why attend
Find out about infrastructure and the career opportunities that exist. You'll get to see what jobs look like, complete fun hands-on activities, listen to inspirational stories.
This is a great event for young women in high school who:
enjoy working with a great bunch of people
like practical hands-on work
like a variety of work
like making a positive impact in their community
may not know much about what infrastructure is
not sure what to do after school or what career opportunities exist
The days typically run from 9am -2pm and can include activities like:
Having a go on an excavator
Climbing a power-line pole
Water testing
Virtual Reality Traffic Management simulations
Exclusive power station, water treatment, and construction site tours
Why host a GWHV event?
Make a positive impact in your business and community by introducing female school students to what a career in your industry and company can offer.
Open the door to your entry-roles, internships, gateway programme or apprenticeship.
Why are we doing it?
GWHV is increasing the opportunities for more women in join the sector!
Females only account for about 6% of employees in the Infrastructure Industries in general – an incredibly low figure given females make up 50% of the population! This means that females are well under represented in the industry. Lets change that!
We believe in having the best people working on New Zealand's infrastructure, irrespective of gender, and with our current skills shortage, the idea of infrastructure being a "male dominated" industry needs to change.