Women in Infrastructure
encouraging, Inspiring & supporting...
...women into trade and technical roles in the infrastructure Industry.
Ultimit: Women in Infrastructure is a Connexis initiative, supported by industry partners.
Currently, women are seriously under-represented in these roles, and we want to change that.
The Ultimit initiative promotes opportunities for a more diverse workforce, with the overall goal of ensuring a continuous supply of skilled trade and technical people.
Kickstart your Ultimit career in infrastructure
---
Changing careers or joining the industry?
---
The Ultimit Journey


---
ULTIMIT AWARDS
We're proud of the progress Ultimit is making and to be recognised with these awards:
Winner of the Not-for-Profit Gender Diversity Award at the Women in Governance Awards 2016
Winner of the Inclusive Leader – Gender Champion Award (Frances Hague, Connexis Board Chair) at the Women in Governance Awards 2016
Highly Commended in the Empowerment Category at the Equal Employment Opportunities Trust Diversity Awards 2015
---


Girls with Hi-Vis® is an Ultimit initiative - encouraging more women to join the industry.
Every June we invite our customer companies to open their doors for the day to give young women the opportunity to gain exposure to the infrastructure sector while at school. Female students get a hands-on experience and gain a clear understanding about what's involved in the many and varied roles available to them in infrastructure's Civil, Energy, Telco and Water industries.
Check out Girls with Hi-Vis®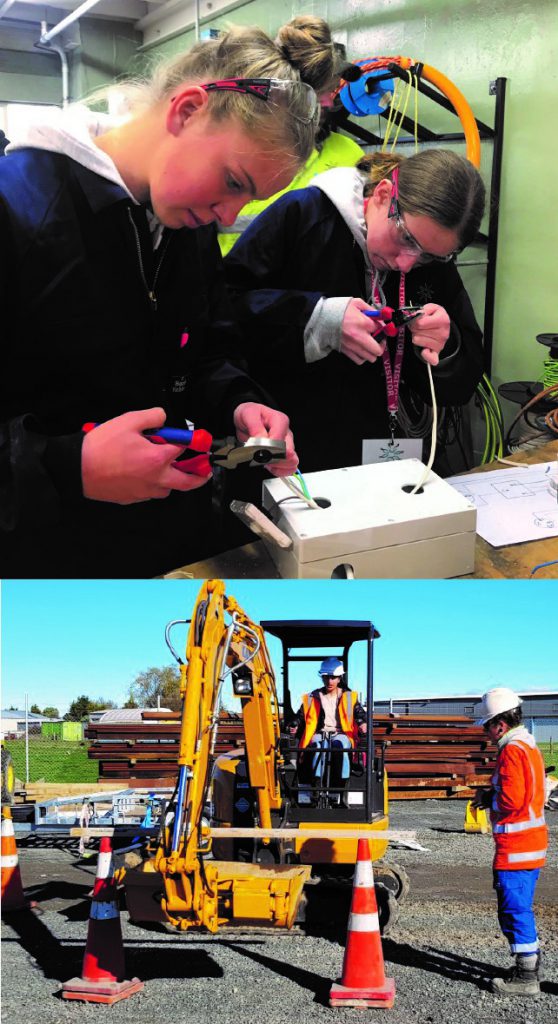 Lisa AlbistonProtection Technician Team Leader at ABB Limited
I didn't know what I wanted to do when I left school.  I was a bit of a 'tom boy' and played lots of sport.  I was a good student but I couldn't see myself gainfully employed in the subjects I liked.  It wasn't until I met a female electrician in the town I lived in, and thought what she did was really cool, that I got interested in a trade.
I told my parents I wanted to be an Electrician and Dad went out and got me a part time job with a local company pulling cables and wiring plugs.  Whilst still at school, I applied to do the ITO Taster Course.  The course gave me insight into all the trade roles I could apply for within the electricity supply industry.  I believe doing this course assisted in my application being accepted for an apprenticeship.
I am now a qualified Electrician with my Power Technician level 5 Qualification. I currently work as the Protection Technician Team Leader at ABB Limited in Hamilton.  As a Protection Technician I test, install and commission protection equipment for high voltage sub stations.  This work can involve using large test equipment to doing analysis on a laptop. We test to ensure correct operation will occur under fault conditions, and that equipment is in good operational condition. This is to ensure the safety of personal and substation equipment during unexpected conditions.  It's interesting, practical and analytical work.


Haley AdamsonMachine Operator at Goodman Contractors Ltd
Haley is a machine operator at Goodman Contractors in Waikanae, specialising in bulk earthmoving. She has worked on projects all over the Wellington and Kapiti region, and is currently based at a subdivision in Whitby, carting and filling at the site in preparation for the roading crew.
Haley first got into the Civil Industry by working for her Dad, who has a small earthworks company. She says that the job came along at just the right time, when she was stuck in a rut and lacking direction. Work gave her something to focus on and put her on the right path.
Haley's brother and brother in law both worked at Goodmans, and had told her good things about the company. When a job opportunity came up five years ago Haley jumped at the chance – and she hasn't been disappointed. Her work has taken her out and about to lots of different locations, and she is constantly learning and gaining knowledge.
When asked what she enjoys most about working at Goodmans, Haley replies without hesitation, "The people. The team I work with are really neat. And the bosses are just awesome. They really value their staff and want you to succeed."
Goodmans are very focused on upskilling their employees, and with their support Haley achieved her first ever qualification – a Level 3 National Certificate in Infrastructure Works (Bulk Earthmoving). "It was a really big achievement for me," she says.
Haley has a young son, and admits that it's sometimes tricky to balance work and family life – especially when you're working long hours. But it is possible. Her advice? "Be organised, have a good routine and a strong support network. It can be challenging at times, but it's definitely worth it."