Fees free for industry training
In 2018 the Government introduced a scheme to encourage more New Zealanders into formal training, study or learning. Many formal qualifications are free for learners for one or two years, depending on the qualification. Certain eligibility criteria exist around the types of qualifications that are eligible for the Fees Free scheme.
All Government information on Fees Free can be found at www.feesfree.govt.nz
Fees Free is available from 1 January 2018.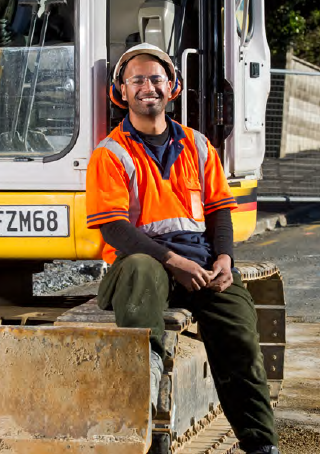 ---
Who is eligible for Fees Free?
You can check whether you are eligible for Fees Free by using the eligibility tool at www.feesfree.govt.nz
To be eligible you must be;
Enrolling in a New Zealand Apprenticeship, or other program, with at least 120 credits and is at New Zealand Qualifications Framework (NZQF) level 3 or above (refer to our list of eligible programmes); and
Entitled to work in New Zealand; and
Not be currently enrolled in a school at the start date of the program; and either
Have been previously enrolled in a school at any time during 2017 or 2018; or
Not have previously undertaken more than 60 credits (half a year of equivalent full-time tertiary education, 0.5 EFTS) at level 3 or above on the NZQF, including tertiary education at an equivalent level undertaken in any other country, but excluding any tertiary education while enrolled in a secondary school.
The eligibility criteria will not change in 2018. Any changes in eligibility after 31 December 2018 will not apply to anyone who signs-up in 2018.
View Quick Learner Guide
---
What is Covered by FEES FREE?
Students heading into Industry Training are funded for the first two years of study. This covers;
Connexis qualification fee
Assessment fees
Provider fees
Resource cost
What's NOT covered:  Costs such as travel, meals and accommodation to attend block courses.
---
What Connexis qualifications are eligible for Fees Free?
To view the full list of Connexis qualifications that are eligible for Fees Free please check out the following list.
Each of these qualifications
Are NZQA Level 3 and above
Have a minimum of 120 credits
---
FAQ
Is an RCC candidate eligible?
Yes, RCC candidates are eligible as long as the eligibility criteria are met.
Can a trainee who withdrew from their program prior to 1 January 2018 be eligible for Fees Free if they re-sign up in 2018?
As long as the trainee has not achieved more than 60 accumulated credits* or achieved a similar level of achievement at a provider (University, Polytech etc) and the program they are signing into meets TEC threshold they MAY be eligible. They would need to go through the same process as everyone else applying.
* Credit accumulation may occur outside a specific program ie first aid course, Class 2, 4 or 5 Drivers License etc
Can a third party fill out the Statutory Declaration form on behalf of a potential trainee?
No, the trainee is responsible for filling out the form and getting it witnessed and signed by the appropriate authority (such as a JP) as per TEC conditions.
What happens if a trainee puts their study on hold or withdraws, does the timer on the two years fees free stop?
The Fees Free period starts for an eligible trainee and ends 24 months from that date. The timer does not 'stop' during this period.
If a trainee gets a 'NO' response to fees free eligibility can they appeal?
If a trainee receives a 'no' answer they can appeal. TEC have a dispute process in place but only the trainee can appeal the decision. They must fill in a form and have it signed by the appropriate authority (such as a JP) as per the TEC conditions.