Outstanding Individual award-winner Allison Endemann says the fields of infrastructure and contracting offer plenty of scope for women.
It is an established fact every field of work has its own fascination – and in the case of Allison Endemann of Higgins Contractors, the thing she is passionate about is asphalt. Yes, asphalt, the surface we all drive and walk around on every single day. As National Asphalt Paving Operations Manager for Higgins, Allison's involvement with asphalt is nationwide: she is responsible for delivering very high standards of safety and quality on complex and important projects like motorways and airport runways.
"Asphalt is a high-risk product," she says. "It is very unforgiving and you have to get its formulation and application right every single time. That's probably why I like it. It's a challenge."
Allison's involvement with asphalt spans 13 years, beginning as a summer intern with a Higgins paving crew while studying for her Bachelor of Engineering. One of her first projects with them was working on Auckland's central city motorway exchange popularly known as "Spaghetti ".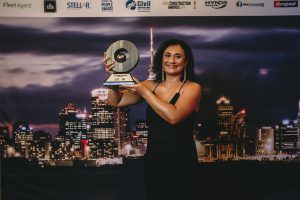 "I have always been interested in maths and science," she says, "and straight after school I completed a Diploma in Engineering. I then did quite an extended OE working lots of different jobs, but it was working in the Asset Management department for a council in London that sparked my interest in infrastructure."
Back from her OE, Allison started a Bachelor of Engineering degree in Auckland as a mature student, studying full-time while interning with Higgins during holidays. She says the job was "quite physical, including shovelling" but she learned a lot. Her efforts saw her hired into a full-time role after graduating, as a Project Manager with the company, a position which saw her work on some of the most complex projects in Auckland.
One of these was the recently completed MHX Kirkbride tunnel, which nearly every traveller to and from Auckland International Airport now goes through.
"Delivery of the tunnel was on the critical path for the programme of works and would have been highly politicised if it wasn't delivered on time," Allison says. "The construction team was still building the tunnel while we were in there doing the asphalt works. Everything that could have gone wrong did, but we still smashed the deadline and delivered beyond expectations."
Allison's unique management style is credited with helping her teams of asphalt specialists to consistently deliver a quality finished product.
"I like to embed my enthusiasm into my team, for them to get excited about the project as much as I am. Encouraging others and aligning our goals allows everyone to share our successes," she says.
In Allison's case this is definitely not a hands-off process and she is regularly on-site.
"Being present and participating in the tough environments I am asking them to work in allows me to mentor teams through challenges in the real-world application of the product. A shared mindset builds our capabilities and innovation as we move forward in step with each other."
Allison admits that there are not many women in the civil construction industry and even fewer in asphalt teams or senior management positions. She says being a woman in the male-dominated industry has been a challenge at times but also credits her colleagues with helping her succeed.
"Something I've taken into my leadership approach is challenging prejudices and not accepting the way the industry behaved 13 years ago when I started. But honestly, that is not what has driven me. I have always been very interested in the technical aspects of our work and knew I had to build credibility as a specialist to gain the respect of my colleagues. I must also say I have had great mentors who have treated me as an equal in intellect and ability, which has opened doors for me."
In 2018 Higgins growth saw the company create a new role for a National Asphalt Operations Manager. Allison's commitment to excellence and good working relationships at all levels of the business saw her score the highly sort after position. A further accolade arrived in July this year when she won the Civil Contractors New Zealand/Z Energy's 'Outstanding Individual of the Year' Award for the Auckland region.
"Not only did Allison have the technical capabilities required for this critical position, she also inspires people to give their best, even in the most testing of situations," said a statement from Higgins at the time. "She is also passionate about training and developing our people to be their best and is proving a highly effective mentor to many of our up-and-coming stars."
In that regard, Allison sees project management in contracting as offering plenty of scope for young women.
"Yes, it's helpful to have an engineering background, a good grasp of finance, and a business management degree is also a decided advantage," she says. "But project management is not necessarily a mass of engineering problems: it's more about executive planning, organisation and communications, which are all things that women excel at!"