Young leaders, workers with a thirst for knowledge and outstanding employers behind some of Aotearoa's top civil construction industry training were celebrated in Christchurch Friday afternoon at the Z Energy People Awards and Connexis Civil Industry Training Awards.
Hundreds of people from across the civil construction industry attended the prestigious awards, which were presented at Te Pae Convention Centre during Civil Contractors New Zealand's National Conference.
Taranaki's Fabian Bracken won the Z People Emerging Leader Award for his natural ability to communicate, lead and motivate those in his team. After five years in civil construction and at just 29 years of age, he has risen to the position of Taranaki Regional Manager for Connell Contractors.
The award judges Bailey Gair and Antony Chan acknowledged Mr Bracken's exceptional practical skills, knowledge and knack for training people.
"Fabian has shown himself to be an outstanding emerging leader. At a young age, Fabian has managed to stand out within his company for his attitude and skills and has led from the front, including successfully setting up office in a new area and gaining new clients for his employer."
The Z People Personal Improvement Award was presented to Danny Wilson, from South Island civil contracting business Isaac Construction.
Mr Wilson joined Isaac Construction on a temporary basis in 2017 and quickly proved his worth, securing a permanent role.
The judges' acknowledged his dedication to self-improvement and rapid career progression from operator to foreman, to surveyor, to site engineer and now project engineer.
"Danny has been offered opportunities by his employer, put his hand up and completed a lot of study around a busy family life to be able to move into his current role."
Two highly commended awards were presented as part of the Z People Awards. Reuben Ford from Smythe Contractors was highly commended in the Emerging Leader category, and Jane Mana from Pipeline & Civil was highly commended in the Personal Improvement category.
The Connexis Civil Industry Training Awards 2022 were also presented this afternoon.
Fulton Hogan's lead role in supporting the Infrastructure Skills Centre earned it the award for companies with a turnover above $100 million.
Developed with the Ministry of Social Development, Civil Contractors New Zealand and the Construction Accord, and supported by other major industry employers, the skills centre is helping to address the industry's skills shortage by providing career seekers with a paid learning experience that gives them the skills to succeed in civil construction.
In making the award, judges Brian Warren and Fiona Malloch commented on the "truly comprehensive approach to training and people development" demonstrated by Fulton Hogan in 2020 and 2021, when it hosted the first two Infrastructure Skills Centre trainee intakes at its Christchurch training facility and the National Driver Training Centre in Feilding.
Course entrants at each of the two intakes were employed, before embarking on a six-week programme that provided hands-on training, theory, and site visits. Trainees gained permanent employment with a range of civil construction companies after completing the six-week course.
The award for companies with a turnover between $10 million and $100 million went to Isaac Construction.
The award recognised the Christchurch company's commitment to inspiring life-long learning among its staff, as well as its proactive engagement with schools to promote the infrastructure industry as a dynamic and positive career choice.
From the moment a team member is inducted, they embark on a lifelong journey of learning, including on-site coaching, literacy programmes when desirable, and formal studies – from NZQA Level 2 through to Diploma level and even MBA studies.
"Training and thus people development is well ingrained within this company but recent Isaac initiatives really caught our attention," the judges said.
A relentless focus on professional development earned Christchurch company Austin Contracting the award for businesses with a turnover of up to $10 million. The company has put in place a formal KPI for at least two thirds of its team to hold an industry qualification, irrespective of their position in the business, age of gender.
Half of Austin Contracting's employees are participating in training, with the second-year Apprentice in Bituminous Surfacing qualification offered via Mana in Mahi proving particularly popular.
"Supporting and encouraging people to achieve nationally recognised qualifications has contributed to a strong company culture and a stable workforce," the judges said. "Their commitment to training is evidenced by the fact over two thirds of their staff either have or are working towards formal qualifications."
Civil Contractors New Zealand Chief Executive Alan Pollard congratulated the award recipients, commenting that they were "outstanding ambassadors" for the civil construction industry.
"We have some truly exceptional individuals and training initiatives in New Zealand at the moment and these awards play an important role in recognising some of the shining lights of our industry."
The annual Z People Awards were developed by Civil Contractors New Zealand, with support and sponsorship from Z, to recognise the outstanding achievements of individuals within the civil construction industry.
Z Energy Customer Manager – SME and Partner Relationships Amber Scott-Harvey said the awards showcased the fantastic young people shaping the future of New Zealand.
"There are some incredibly talented people coming through the ranks of New Zealand's civil construction companies and they deserve to be recognised. Their efforts, whether as leaders or dedicated individuals keenly honing their craft, serve as examples of what can be achieved when you put your mind to it, irrespective of age."
The Connexis Civil Industry Training Awards are presented annually by Civil Contractors New Zealand and sponsored by Connexis, to recognise employers that proactively provide learning opportunities for their staff to gain skills and develop their careers through a nationally recognised qualification.
Connexis Director Kaarin Gaukrodger said Connexis, through its support of the awards, was proud to shine a light on some of the civil employers who are investing in their people and building much-needed skills within industry.
"The employers recognised through these awards are passionate about skilling up their workforce and understand the importance to their business of growing a sustainable civil construction industry and ensuring the safety and wellbeing of their workers. Each of these employers has a built-in culture of training to national standards and is growing the capability of their business as a result. Training is vitally important to the industry – now more than ever – and we hope this year's award winners inspire others with their dedication and outstanding efforts."
Winners: Z Energy People Awards 2022
Emerging Leader Award
The Z Energy Emerging Leader Award is given to people under the age of 30 who have innovated, impressed and made a difference to the industry, their peers and their employer. These people have excelled in their career and demonstrate a well-rounded character with exceptional leadership qualities.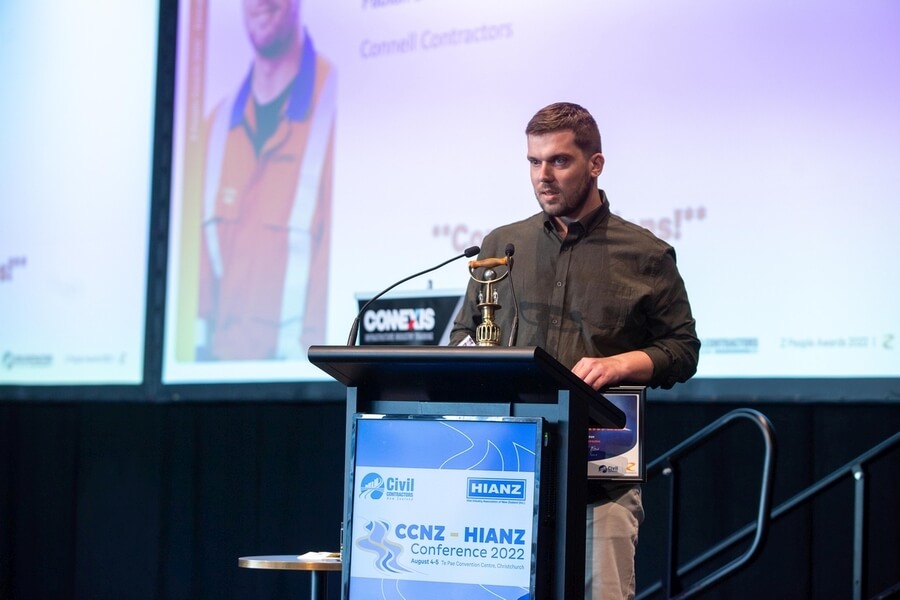 Winner: Fabian Bracken of Connell Contractors
Fabian Bracken is based in New Plymouth and oversees all Connell work in the Taranaki region. He has been with Connell Contractors since 2017 but at just 29 years of age, he is already regularly called "an old head on young shoulders" by his supervisors, due to his abilities to absorb information and communicate it to his peers. His reputation for patiently motivating team members he manages has earned him both their trust and the trust of management. Fabian is currently working towards his Diploma in Engineering (Civil) with the New Zealand Institute of Highway Technology.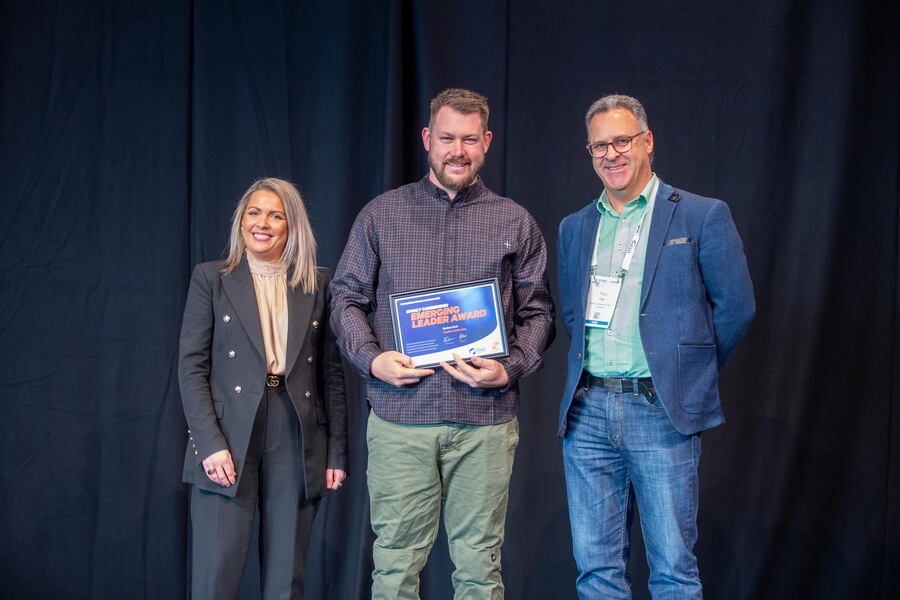 Highly Commended: Reuben Ford of Smythe Contractors
Reuben Ford brings the positivity to work every day, always with a smile and a joke to start the day and lighten the mood. He clearly explains what is needed for the day ahead before listening to each member of his team and making sure they feel heard. He is great at bringing the team together to work as a singular unit, despite their separate tasks, and has been a real unifying force at Smythe Contractors.
Personal Improvement Award
The Z Energy Personal Improvement Award recognises how an individual has committed themselves to ongoing training and development for the betterment of themselves and their employers. It reflects how they make the most of the opportunities made available to them in the civil and general contracting industries.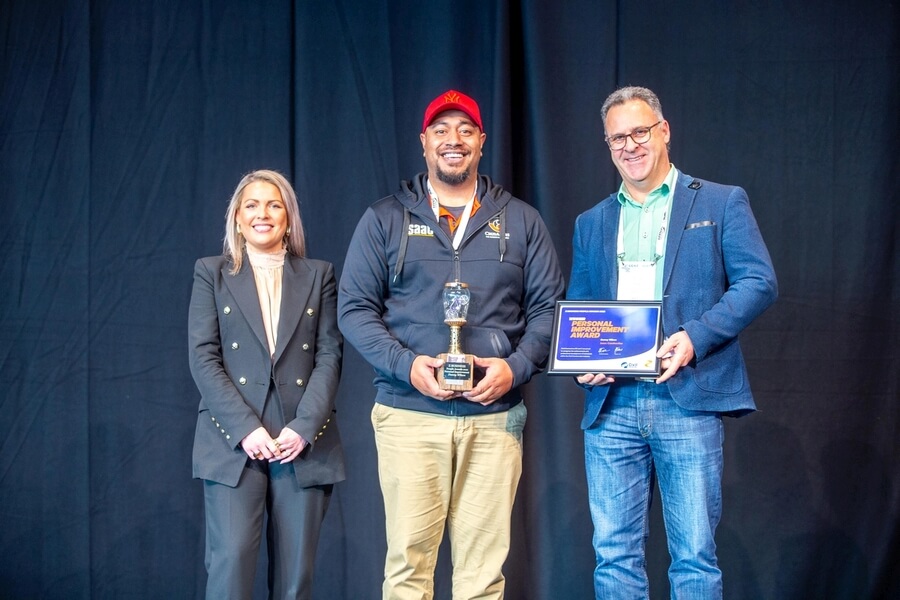 Winner: Danny Wilson of Isaac Construction
Danny Wilson has worked with Isaac Construction since 2017, where he began as a 30-year-old operator with an abundance of practical skills but lacking formal qualifications. Since then, he has been hired into a permanent position and moved through the ranks, from operator to foreperson to surveyor to site engineer, all the way up to his current role as project engineer. His desire to improve and career success so far is a testament to what can be achieved in the infrastructure industry with the right attitude.

Highly Commended: Jane Mana of Pipeline & Civil
Jane Mana has been with Pipeline & Civil for almost 20 years, working in both traffic management and as a field worker. Despite her years of experience, she is never complacent, and is motivated to advance her career. She is currently working towards her New Zealand Certificate in Pipeline & Construction Maintenance – Level 4, which she hopes will see her promoted to Qualified Tradesperson once completed.
Winners: Connexis Civil Industry Training Awards 2022
Civil Industry Training Award for companies of over $100 million turnover and alliance projects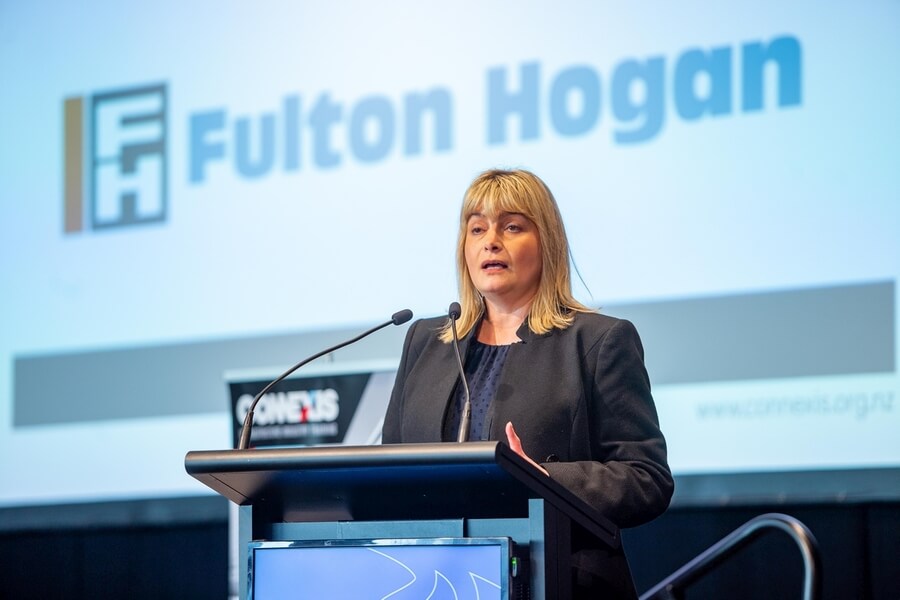 Winner: Fulton Hogan
As a leading force behind the Infrastructure Skills Centre, Fulton Hogan has set about shoring up New Zealand's infrastructure industry talent pool. Course entrants are first employed before starting the six-week training course that includes both theory and practical components, facilitated by workplace instructors and subject matter experts. The skills on offer in the programme cover a wide range of subjects, from workplace safety and hazard management to mental health awareness and budgeting.
Civil Industry Training Award for companies with turnover between $10 million and $100 million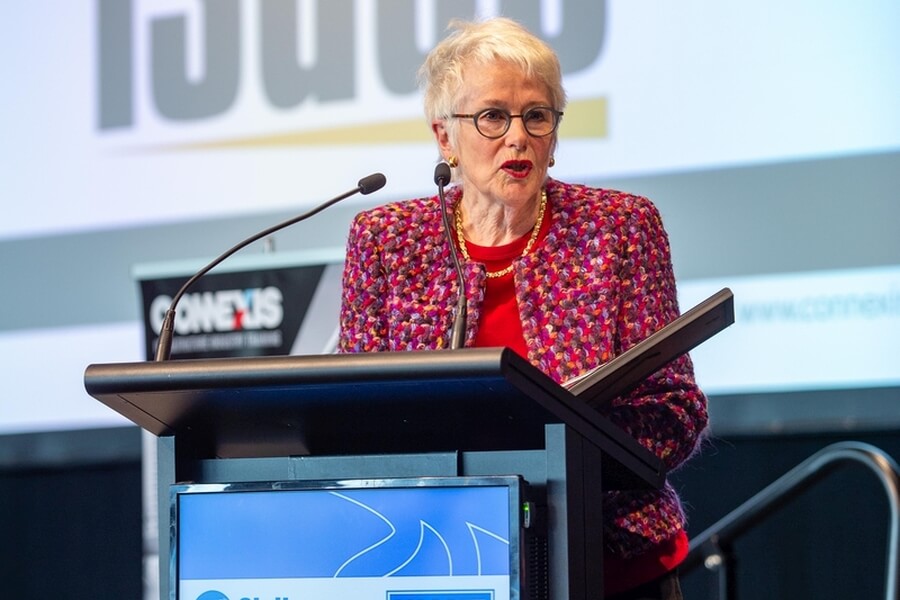 Winner: Isaac Construction
At Isaac Construction, professional development is considered fundamental. All staff are placed on a growth path from induction, from "Leading Self" to "Leading Others" to "Strategic Leadership". This constant growth fuels the desire to learn and be better, promotes independent thinking and mentorship, and helps with retention of talent. Isaac Construction also works externally in schools to promote the infrastructure industry as a positive, difference-making career path.
Civil Industry Training Award for companies of up to $10 million turnover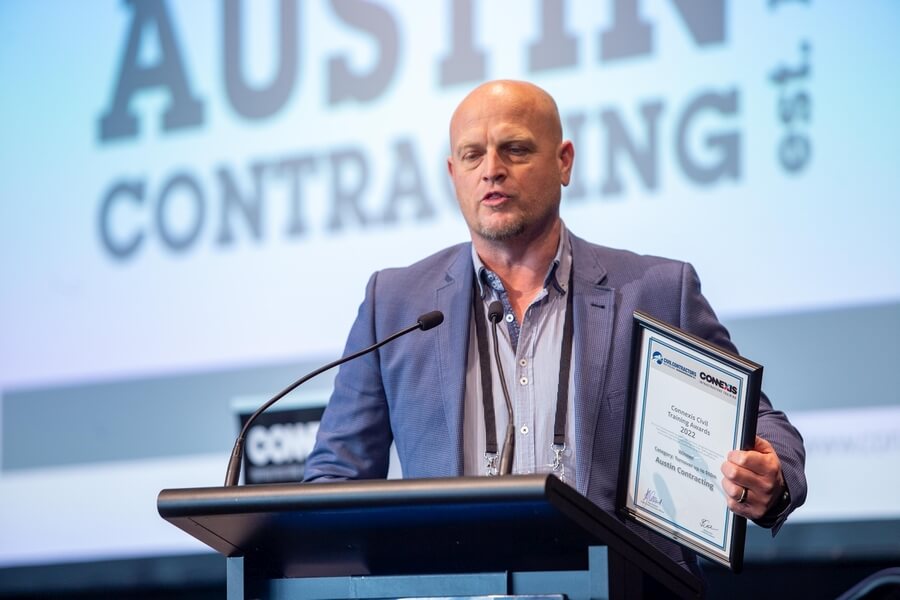 Winner: Austin Contracting
With 35 years of history behind them, Christchurch's Austin Contracting has invested in its workforce and people as a key asset. With half of the team currently participating in some form of training and development, and many others already qualified, the company is effectively achieving its own KPI of having two-thirds of the workforce holding an industry qualification. This emphasis on professional development has allowed the company to offer a diverse range of services and greater flexibility across its teams.