Kia ora koutou,
Welcome to the bold new world of vocational education!
As of Wednesday 1 September 2021, our brand, arranging training functions, and most of our people, have transferred to Te Pūkenga subsidiary Work Based Learning Limited (WBL). Connexis is now a separately branded business division within WBL. Read more about Connexis' shift into WBL.
By moving early to transition, our focus can now be on the development of the new operating model for Te Pūkenga and working with the establishment team to ensure the new model best services our employers and learners engaged in industry training.
Engagement on the early design of the Te Pūkenga Operating Model is beginning in October. Employers are being invited to get involved. Please see below for more details.
We are looking forward to continuing our work with you to provide industry training that is more responsive to your needs, and that is accessible and flexible for both learners and employers. Thank you for your continued support, and for continuing to invest in industry training and in a skilled up infrastructure workforce.
Ngā mihi nui,
Kaarin Gaukrodger
Director
Connexis – a business division of Te Pūkenga Work Based Learning Ltd
---
Te Pūkenga operating model engagement in October 
Te Pūkenga is preparing to engage with employers, learners, industry associations, iwi, staff and other stakeholders involved in vocational education on the design of its operating model. The engagement will run from 5-26 October.
This phase of the operating model will focus on outcomes, including the learner and employer experience and how Te Tiriti o Waitangi will be imbedded into the new organisation. It will not cover organisational structure.
The engagement will include detailed information as well as summaries and fact sheets.

Te Pūkenga is also inviting all employers to join an online briefing with Warwick Quinn, Te Pūkenga DCE Employer Journey and Experience. There will be five identical sessions on:
Monday 18th October: 4:00pm – 5:15pm
Tuesday 19th October: 12:00pm – 1:15pm
Tuesday 19th October: 4:00pm – 5:15pm
Thursday 21 October: 12:00pm – 1:15pm
Thursday 21 October: 4:00pm – 5:15pm
Feedback will be collected through Te Pūkenga Citizenlab online engagement platform.
---
Standard Setting readies for move into Workforce Development Councils
From 4 October 2021, responsibility for qualifications development, pre- and post-moderation, consent to assess, and programme endorsement for the infrastructure industries will move from Connexis to the new Waihanga Ara Rau Construction and Infrastructure Workforce Development Council (WDC). 
Click here to find out more about the transition of the following functions to Waihanga Ara Rau:
Qualifications and standards
Consistency reviews
Interim programme support
National external moderation
Consent to assess
Consent and moderation requirements
If you have any questions prior to 4 October 2021, please email info@wdc.nz.
Connexis will continue to:
Arrange on-job training programmes for workplaces in the infrastructure sectors;
Train, support and moderate industry assessors;
If you have any questions or concerns, please contact askus@connexis.org.nz or 0800 486 626
---
Waihanga Ara Rau takes shape with strong infrastructure representation
We are glad to confirm that important knowledge and experience of infrastructure industry training will be present in the leadership team of Waihanga Ara Rau Construction and Infrastructure Workforce Development Council (WDC).
Connexis Group Manager Learning Solutions Mike Grumball has been named as General Manager (GM) Assurance for Waihanga Ara Rau.
Three other GMs have also been announced:
Catriona Petrie, General Manager Qualifications System Product
Mark Williams, General Manager Strategy and Insights
Vanessa Delegat, General Manager Equity and Partnerships

Read more about these appointments and see GM bios.
Other Connexis team members will be transferring across to Waihanga Ara Rau to share their knowledge and expertise with the new organisation. Here is a roundup of their new roles:
Ashley Chisholm (Connexis Quality Assurance Manager) moving to Relationship Management Lead
Karen Drummond (Connexis Quality Assurance Advisor) moving to Moderation Lead
Cheryl Rosenquist (Connexis Quality Assurance Administrator) moving to Moderation Administrator
Michele Miller (Connexis Qualifications Developer) moving to Qualifications System Product Analysts
Marie Cross (Connexis Qualifications Developer) moving to Qualifications System Product Analysts
Sue Hawkins (Connexis Customer Service Account Manager) moving to Relationship Manager
Natasha Riches (Connexis Customer Service Account Manager) moving to Relationship Manager
Newly appointed Waihanga Ara Rau Chief Executive Philip Aldridge also has an infrastructure background, having headed Infratrain before it merged with ESITO to become Connexis. Read more here.
Find out more about WDC appointments on the TEC website.
---
Simplifying qualifications: Findings of NZQA consultation
The New Zealand Qualifications Authority (NZQA) has announced a strategy for simplifying vocational education qualifications and other credentials.
The decisions came out of consultation, held earlier this year, with iwi, Industry Training Organisations, training providers, learners, employers, and other stakeholders.

This review is central to helping achieve some of the core goals of the Reform of Vocational Education (RoVE), including creating clearer skills pathways and more flexibility for learners to move between providers, regions and modes of delivery.
The key decisions include:
Allowing WDCs (as well as providers) to develop micro-credentials, replacing Training Schemes with micro-credentials, and formally including micro-credentials on the New Zealand Qualifications Framework.
WDCs will have the option of allowing multiple provider programmes to be developed against a qualification or to lead the development of a 'national curriculum' alongside providers. WDC-developed skills standards will become the building blocks for all provider delivery.
The summary of consultation feedback and detailed information about the reforms is now available on the NZQA website.
NZQA will be hosting an information session on the decisions made and provide an opportunity for you to ask questions. You can register now: 
If you have any other questions about these reforms please contact VQconsult@nzqa.govt.nz.
---
New guidelines for classroom learning in Alert Levels 2 and 3
The guidelines for Tertiary Education Organisations (TEOs) have been updated since Auckland's move to Alert Level 3 on 22 September.
The key changes for TEOs operating in Alert Level 3 (Auckland and Upper Hauraki) are:
Any class or workshop that cannot be delivered online and remains open should be limited to 10 people or less.
Face coverings are strongly recommended for on-site learning.
At-risk and vulnerable people (or those caring for/ living with vulnerable people) should not be required to carry out on-site learning unless they are fully vaccinated.
Students in an Alert Level 3 area are not permitted to return to their primary home or place of residence in an Alert Level 2 area unless they have an exemption from the Director-General of Health.
The updated advice for TEOs operating in Alert Level 2 (rest of the country) are:
Capacity limits for large teaching and learning spaces of a maximum of 200 staff and students, with physical distancing of 1-metre, are strongly recommended.
Face coverings are strongly recommended for students and staff in teaching and learning spaces.
For all the information and the most up-to-date advice, click here.
---
RoVE survey: Te Pūkenga transition was smooth from a learner/ employer prespective
Thank you to all our employers and learners who completed the survey we put out in August to gauge how informed you are feeling about RoVE. We had a good response from both groups, with pleasing results.
Most employer and learner respondents agreed Connexis has continued to be responsive throughout this year of transition and felt RoVE has had little to no impact on our service levels. 80% of employers said there was no or only a minor impact on Connexis' service levels. The remaining employer respondents said there was a moderate impact. 85% of learners rated little to no impact on our service levels due to RoVE.
It was clear that more employers than learners felt informed about the RoVE programme and the changes to vocational education. Sixty-six per cent of employers felt "somewhat informed" or "very informed" about RoVE, compared to 44% of learners. This result was expected. Employers take the responsibility to sign-up their employees and cover training costs, making them necessarily more engaged than learners in the broader training environment.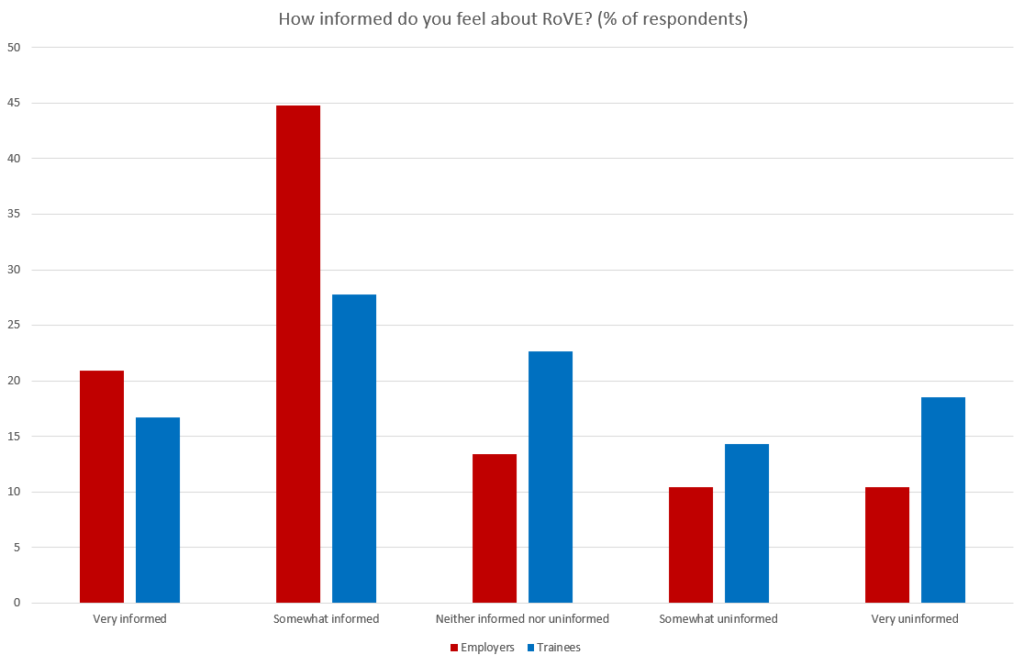 From our conversations with industry, we understand some employers consider it too early to take a view on the benefits RoVE will deliver for industry training. This explains why 41% of employers said they expected it to have no impact. Learners were more optimistic, with 48% saying they expected a positive impact.

RoVE will bring new opportunities in industry training, and we look forward to keeping you informed and involved as the new system is developed and refined.